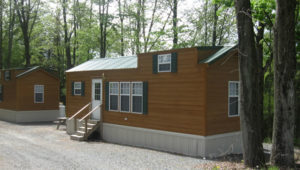 Ponderosa Pines Campground in Honesdale, PA is the place to go when you want to enjoy some camping and spend lots of time on the water. And it's quiet! They promise no trains, no planes, and no traffic. You'll be nestled in the Northern Pocono Mountains, one of the most beautiful areas of the state.  If catch & release is your hobby you'll love it here. They have a lovely pond all stocked and ready for you. You can enjoy paddleboats, kayaks, rowboats and canoe rentals or just swim in their saltwater pool.
There are lots of outdoor games to challenge your friends to with basketball, mini-golf, volleyball, and horseshoe pits. Camp in your tent, RV, or rent a park model. There are lake front sites without a sewer hookup but have no fear, they can service your holding tanks with their Phelps Honey Wagon.
John wrote to us after his first season of having the honey wagon and only getting to use it for three weeks before they closed. He said "I just wanted to drop you a quick note to say thanks and to tell you how impressed I am with the honey wagon. I just ended the camping season here, but had three weekends to use the wagon and get familiar with it. It is a most impressive machine and makes an ugly job quite bearable. My customers were very happy with it as well. Thanks again!"
We love hearing that John was able to put his new honey wagon to use right away in his campground and see value in it over just three short weeks. That's why we do what we do and we are pleased to know that John's honey wagon is still serving him and helping him run his business.
You can find out more about Ponderosa Pines Campground by visiting their website at www.ponderosapinescampground.com