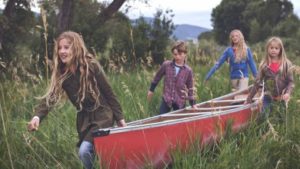 Kampfires (formerly Hidden Acres) in Dummerston, VT. They are located in beautiful southern Vermont and you'll never run out of things to do, either at the campground or in the surrounding area. There is plenty of hiking, biking, horse riding, golf, and shopping to be found just a short trip away from the campground. You may not want to leave, however, because of all the fun and relaxation you can experience right at Kampfires.
If you're not swimming in the pool or playing their 18-hole miniature golf, you can play volley ball, horseshoes, or shuffleboard. Be sure to bring your pets along because this campground welcomes them. There is on-site laundry and an ice cream stand. You'll want to visit it a time or two while you are there. If you do decide to venture out into the surrounding community you can take a shuttle right from the campground. This is so convenient for RVers who may not have towed a vehicle with them.
They offer B&B style guest rooms with private bath, your own outdoor space, and access to all the campground amenities. RVers can pull through on a 50/30/20 amp site. If you don't land on a site with a sewer hookup you can order pump out service from their Phelps Honey Wagon. Most sites can accommodate rigs up to 75' long.
Frank has been happy with his honey wagon purchase and said "The honey wagon has been great to have around. I have people staying for a whole week who would have pulled out much sooner before I had my honey wagon." This is one of the things we hear most from our customers. Having a honey wagon on site and available for pumping service often is what motivate people to stay longer if the sewer sites are full. It's a big benefit and can make a substantial increase in annual revenues from the very first season you use it.
You can find out more about Kampfires from their website at www.kampfires.com