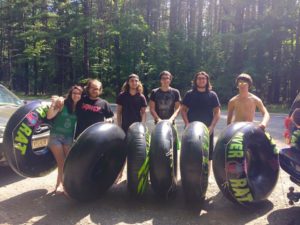 Oakland Valley Campground in Cuddebackville, NY. Who wouldn't love to go camping in a place named Cuddebackville. It sounds fun, doesn't it? Well, that's what you'll get, and lots of it, when you camp at Oakland Valley Campground. With 2,000 feet along the pristine Neversink River you'll get lots of water time in during your stay. They have riverfront sites that offer the opportunity to fish right from your campsite. You can also go tubing and who doesn't love that?
The area offers white water rafting, cave exploration, antiquing, horseback riding, and golf. There is also lots of shopping for those treasures you want to take home as memorabilia from your trip. They have sites for daily or seasonal camping and park model or trailer rentals, too. They even offer Mini Seasonal Camping rates that are priced for 8 -10 weeks and include a family of 2 adults and their kids under 17.  You can also join them for a themed weekend as they hold several throughout the summer. Choose Crazy T-Shirts, Wine and Cheese, or Golf Cart Parades. They're all a fun time at this popular family campground.
Skip, the former owner, used his Phelps Honey Wagon to empty customers' tanks and he let us know that it came in handy for other purposes as well. He said "My Phelps Honey Wagon is the best machine I've ever invested in. It will suck anything. I even cleaned out my cesspool and it has been working great for years now." We are always pleased to know our customers are finding multiple uses for their honey wagons. We like to see them make money, save money, and save time with theirs.
You can find out more about this fun family campground at www.oaklandvalleycampground.com