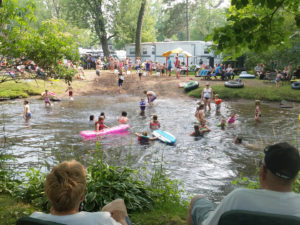 This Chippewa Falls, WI campground offers a wide variety of campsites and cabins for any kind of camper or RVer. They have back-ins and pull-through campsites to choose from and electricity is up to 50 amp. You can rent a cabin, travel trailer, or park model. Each has a daily and weekly rate.
There are themed weekends held here all season long. They start out with Bud's and Bunnies Weekend in April and end with Last Camping Weekend on October 13-15. In between you can choose a whole host of themed weekends such as Super Hero Weekend, Splender and Splurge Weekend, and Dyn-O-Mite Decades Weekend. Check out all the options on their Events page.
You can order just about anything you can think of from the OCC Canteen. Grab a pizza, burgers, cheese curds (these are amazingly good and if you've never tried them you must taste Wisconsin cheese curds before you leave), or ice cream goodies such as malts, shakes, and sundaes.
There is lots to do in the area, too. You can visit the Irvine Park Zoo, go tubing down the Chippewa River, go to the Wisconsin State Fair, or check out their local breweries and wineries. Guests are never bored when they camp at O'Neil Creek Campground and we're happy to be their honey wagon provider of choice. When we asked Joe how things were going with his honey wagon purchase he responded "I am very happy with my Phelps Honey Wagon. I made over $8,500 last year with it. It cut my labor time in half."
That is our goal for our honey wagon clients. We want to help them increase their revenue while reducing their labor. They all deserve more time for other things and our honey wagons can assist them in achieving that. We look forward to making you a customer, too. Give us a call and we'll talk about options to make your life easier.