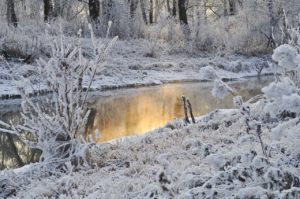 Many RV parks and campgrounds in the US close their doors for the winter. Heavy snow in the northeast sends a lot of those campers to the southwest to warm their bones and wait out the cold weather back home. For the parks that close for those winter months, a Phelps Honey Wagon can be a big help in getting the work done.
Water expands when it freezes and that is the potential damage for these pools in cold weather. It can crack pool pipes, filters, skimmer baskets and pumps so draining (not emptying) the pool below the skimmer mouth is recommended. It's hard to imagine, but winter frost can heave a pool right out of the ground if you don't leave some water weight inside the pool for the winter. It's also recommended that you place a flotation device, or "pillow", under the cover when closing the pool for the season. This allows balance for any rain water and ice that forms on top of the cover and affords the ice inside the cover plenty of room to push up and ease pressure on the outside walls.
When your pool needs to be drained for the season, a honey wagon can do the work in a fraction of the time it would take you to do it using hoses that transfer the water to another area of the campground. Many of our models can pump 40-60 gallons per minute. If your swimming pool holds an average of 30,000 gallons you can have it drained down for the season in a day. This would take a lot longer – several days, in fact – if you're draining the pool manually. It also makes it convenient to move the water to an area that won't be flooded or harmed by the added volume. You can pull the honey wagon trailer wherever it most makes sense for you to offload the pool water.
Many campgrounds have ponds onsite and some weather conditions require the water level be reduced for the winter freeze. You may need to drain your pond in order to prepare it for fresh water in the spring. Our honey wagons can handle it due to a 2-inch hose which can allow most of the debris to pass easily into the tank. When you consider the expense of your pool and ponds you can see that the purchase of a Phelps Honey Wagon is an investment in insuring protection for those assets that can be very costly to replace.
We are happy to talk to you about how a honey wagon can assist you at your RV park or campground. Call us soon and we will share ideas that will work for you and your bottom line.