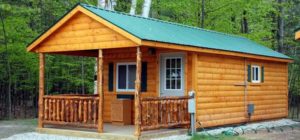 Sherwood Forest Campground and Resorts is located in Olivet Michigan. They are open from mid-April to mid-October each year. This 60 acre campground is family-friendly with plenty of activities for the kids. When camping there you will have access to plenty of groomed hiking trails and an abundance of wildlife. They have water-slides and a GAGA Pit which are very popular. The whole family can have fun riding bikes, or challenging each other in a game of basketball or volleyball. They also offer themed weekends all throughout the season.
All types of campers meet here whether they are camping in a tent, RV, or are taking advantage of the cabin rental that is available. You'll appreciate the family atmosphere and get some time to relax in a beautifully wooded setting.
When camping with these fine people you have access to their honey wagon service. The campground's sites are 30amp and 50amp electric only. They charge $15.00 to pump your tanks and make a run each Monday, Wednesday, and Friday. You can visit the campground store to have your name added to the schedule.
We heard from the owner, Steve, after he'd had a chance to put some hours on his new honey wagon. He said "I just called to say that my honey wagon is the only piece of equipment I have ever owned that I really don't have to worry about." and we loved hearing that. We make our Phelps Honey Wagons as low maintenance and long lasting as we possibly can. Steve is just one of our satisfied customers and we intend to keep him happy for as long as he owns his honey wagon.
You can find out more about Steve's campground by visiting Sherwood Forest Campground and Resorts.