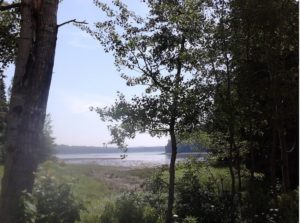 This beautiful 33 1/2 acre campground is located on the incredible Bay of Fundy. The tides roll in and out each day and the ocean provides all the scenery you could ask for. Within the campground you'll find a Pine tree that is more than 500 years old. It's fun to imagine what life was like back when that tree was just a sapling.
They serve food from their Beach Front Canteen and have plenty of beach access. You can use the Kitchen Shelter/Rec Hall for your group while the kids run and play in their broad, grassy spaces. It's family-friendly and they plan plenty of weekend events on the beach. The sites are large so you can enjoy yourself without being parked too close to your neighbor. Pull through sites are available and six of them are full service pull-throughs. Join them for tubing on the St. Croix, Christmas in July, or the Campground Deck Crawl. It's bound to be fun for the whole family.
Joe, the owner, recently wrote to us regarding his new Phelps Honey Wagon. "Hi folks, just wanted to send you a short line and say "thank you" for your information, kind service, and quick response to my request on your products. It was delivered to me on time with no troubles. My son and I completed the minor details to get the unit up and running and it works exceptionally well. The motor, tank and hoses are just perfect. Actually I cannot find anything to complain about. This unit works way above my expectations and makes my new job at our park extremely easy. It is weird to say, but I actually enjoy pumping this "crap". Again, I can't thank you all enough for all your help"
We appreciate getting notes like that because it confirms that we are hitting our mark. We aim to provide our customers with stellar service before, during, and after the sale. Our customers' success is a success for us as well and we hope Joe and Kathy continue using their honey wagon for a very long time. We'll certainly be here to help them for as long as they need us.
You can find out more about this incredible campground on the ocean at Oak Bay Campground