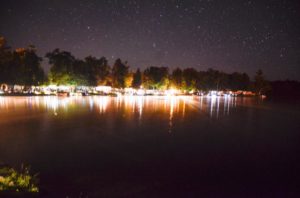 This lakefront campground offers a beautiful sandy beach, swimming, fishing, boating, and water sports of all kinds. Campers can put their own portable dock up during their seasonal stay. They are pet friendly and open for all of three seasons.
Because they are a heavily seasonal-stay campground, they found that they didn't have enough sewer sites to accommodate all of their campers who were requesting them. It is an expensive project to jump into so a honey wagon proved to be the perfect bridge until that day when they can upgrade more sites.
They are close to the Trans-Canada Trail and plenty of shopping, golf, and historical sights. The area began as an iron mining town and still maintains five of the original 11 pioneer buildings which have been restored magnificently.
The owners, Bruce and Ruth, were absolutely thrilled when, after their first year of offering their Phelps Honey Wagon service, they earned $3,500 and made some of their campers very happy. They found that the news of their honey wagon service spread through word of mouth more than they expected and they really had little to do in advertising to their guests.
We love hearing of their success and we will remain available to help them increase that revenue in the years to come. You can find out more about their campground at www.bayviewtrailerpark.com in Marmora, Ontario. Call us with all of your questions regarding how you can increase your bottom line with a Phelps Honey Wagon. We look forward to hearing from you.