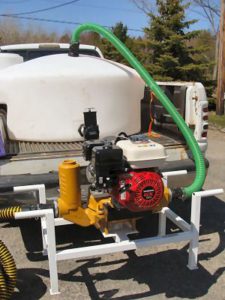 Every situation is unique when it comes to your Phelps Honey Wagon needs and sometimes having your equipment on a trailer won't work for your company. That's why we have our 325PUG truck mounted version for our customers to consider.
This setup allows you to get into tight spaces.  It is an advantage if you have properties that are far removed from one another and you'd rather not pull a trailer in traffic.  This model is also a little less expensive since you are not purchasing the trailer.
It is fitted with a 325 gallon tank which slides easily into the bed of a pick-up truck, right between the wheel wells. You will need a Class 3 hitch receiver on the truck. The Polyethylene tank has 1/4 inch walls and assists in forecasting when the tank is full. The benefits of a Polyethylene tank include reducing the potential weight of the tank and reassuring a long tank life.
The pump specs are the same as they are for the 300G and the 500G pump and engine. The self-priming pump is cast aluminum (to resist corrosion) and will pump 50-60 gallons per minute. The pump and motor mounts onto a frame that slides into the Class 3 hitch receiver we mentioned above.
The hoses have quick couplers  to allow ease when loading or unloading from the truck. The discharge feature is a gravity drain with a 3 inch rear discharge gate valve and cap. This model is covered with a one year warranty on the tank and pump (except for wearable parts), and the engines are warrantied by the engine manufacturer for 2 years (Honda) or 90 days (Briggs & Stratton)
We pride ourselves on listening to the diverse needs of our customers. When it became clear that a non-trailer model would be a good solution in some instances we made sure to have a well designed one available. If you have any questions, please call us. We would be happy to talk through your unique situation. We look forward to working with you and hearing how your company has benefited from having a Phelps Honey Wagon available when needed.