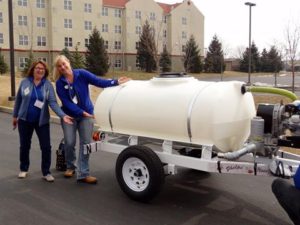 We understand that you are busy operating your business and that you have high expectations of the equipment you invest in. You can't afford to be spending inordinate amounts of time maintaining your Honey Wagon or to be replacing it every few years. Typically, the main goals of your purchase are to save yourself time and generate more revenue than you spend. That is why we have designed our Honey Wagons the way we have.
Our goal is to have the most satisfied customers in the industry. We work hard to make sure your Honey Wagon is soundly built and will last a long time with proper use and maintenance. We make ourselves available to answer any questions you may have. You can feel comfortable knowing we stock most replacement parts and will ship them next day so you experience as little down time as possible.
If you do your part, by keeping your Honey Wagon protected from the weather and performing our recommended maintenance, you can expect to have a fully functioning Honey Wagon for (sometimes) decades. There are oil levels and flapper valves to check annually and the plunger bearing grease needs to be checked after every eight hours of use. Winterization will require adding anti-freeze and draining hoses. That should take care of most of it for a long and happy life with your Phelps Honey Wagon.
We are available to answer any questions you may have and we look forward to working with you for many years to come.