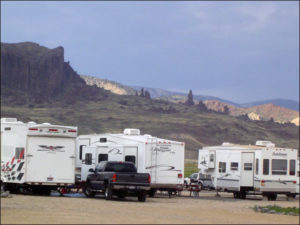 This beautiful RV park is located between Cody, Wyoming and Yellowstone National Park. The landscape you can see from the campground is breathtaking. You may see wild horses thundering across the plains or elk and buffalo grazing away a warm afternoon. The area is almost magical with its colorful landscape and fascinating wildlife.
The purchase of a Phelps Honey Wagon allowed the managers of Yellowstone Valley Inn & RV to increase the rental of their 36 water and electric campsites. The company makes note on their
website that they provide an onsite pumping service and it mentions that the RV owner does not have to move the rig. The fee for the service is $15.00 and, when you look at their
pricing structure, you find that sewer sites are $10.00 more than the water and electric, per night. This works out to be a money saver for the RVers who only needs to empty their tanks
every three or four days. It also brings in added revenue to the park through pumping services and added site nights.
They had been a little nervous about pumping their first RV so testing things on one of their staff's rig. It didn't take long for them to realize how fast and efficient the process was and they remarked that it even surprised them that the hoses cleaned out as completely as they did.
That's one of the features that keeps our customers coming back. Our honey wagons are designed for fast and complete cleanup. They are built to discourage any buildup within the tank and hoses. The tank flushes easily and there is very little maintenance to perform in keeping your honey wagon fully operational for years to come.
We appreciate the patronage from Yellowstone Valley Inn & RV and we suggest you stay with them any time you find yourself in their area. You can find out more about their campground at
www.yellowstonevalleyinn.com