The challenging thing about holiday weekends in an RV park is that everyone shows up at once, they stay for three days, and they all leave at once. RV parks and campgrounds find themselves full to the brim – and that's a good thing – with far more RVers than usual parked on non-sewer sites. In fact, some may even be dry camping in an overflow area.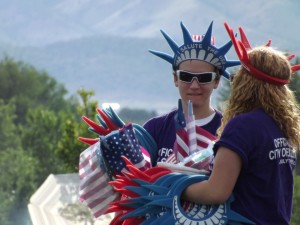 In this case, most campgrounds find their dump stations lined up with RVs from very early morning on that last day of the holiday weekend. Campers get frustrated, it's a strain on the system, staff can't keep up, and it can be chaos for several hours.
A Phelps Honey Wagon can be just the tool needed to get things under control during these stressful times. With a honey wagon, you can offer services to all of your RVers the evening before they plan to leave. RVers are usually planning ahead with the intent of getting up and getting on the road early. They tend to be mostly packed by the time they go to bed. The campground owner could charge for this service and save their guests from unhooking and moving off the site twice; once to dump their tanks the evening before and once to leave the campground, or save them from a long wait in the morning.
Holidays are such a short time for your guests to enjoy themselves and many spend long hours on the road traveling to and from the campground. Any conveniences that can be offered which give them more time with family is usually very welcomed.
There are multiple uses for a honey wagon in the campground and we would be happy to discuss some ideas with you. Feel free to call us any time.