Over the past few years, we have had numerous requests for a wagon with an extremely large tank. As an answer to these requests, we developed the 1035G. This wagon has the same great 5.5 Honda Engine and Diaphram pump but with an enormous 1035 gallon tank. Since the 1035G is a large wagon and many of the parts are not able to be kept in stock, this wagon will require 4 to 6 weeks for availability.
All wagons come standard in white. Custom paint colors (like the wagon below) can be special ordered. This wagon is pictured with the extra fender package, as well. Because the 1035G is too large for a freight truck, it must be picked up on location or driven for delivery.
Approximate weight 1500 lbs.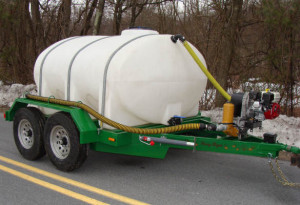 Specifications
Pump
Cast aluminum pump to resist corrosion
12 in. Thermoplastic Diaphragm
60 gallons per minute
Will pump a 25 ft. head
Neoprene Flapper Valves
Self-priming
Motor
5.5 H.P. Honda engine
Tank
1035 Gallon Capacity Tank
Polyethylene plastic tank for long life with approx. 1/4 in. walls
Dimensions: 79 in. wide | 53 in. high | 89 in. long
Translucent tank to show content level
Tank is supported by 5" steel channel frame with cross members of steel as well
Large 16 in. top lid for easy interior hose down
Discharge
Gravity drain with 3 in. rear discharge gate valve and cap
Adapters
RV Hose Adapter, fits all RV's
Hose
50 ft. of 2 in. tiger tail Hi Vac hose, very flexible, tough, lightweight and non-kinking
Tongue
2 5/8 in. ball coupler

Trailer
Length: 186 in.
Width: 101 in.
Axle
Tandem axle - 6000 lbs. rating per axle
Tires
4 - H78 x 15" tires
Weight
Approx. 1500 lbs
Warranty
One year warranty on trailer and tank
One year warranty on pump, except for wearable parts
Engine has warranty by an authorized Honda dealer for two years